Inactive Ad
---
The ad you requested is no longer active, however you may be interested in some of the following Beech Baron 55 ads:
displayAdsHomeRecent
---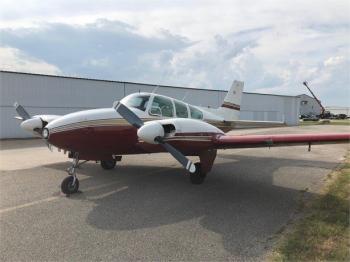 1962 Beechcraft Baron w/ 2,414 Total Time Since New. King KA134 Audio Panel, King KX155 TSO Digital NAV/COM, King KN 64 DME, King KT76A Transponder. Airframe: Total Time: 2,414 Engines: Engine 1: 505 Hours Since Major Overhaul on Continental IO-470 by Ly-Con Rebuild Co. CRS CT3R435L Make: Continental // Model: IO-470-L // Serial #: 90899 Engine 2: 850 Hours Since Major Overhau...
...more
.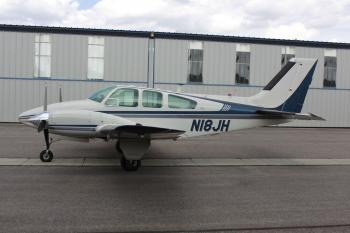 On Centerline Aviation is happy to present this 1963 Beechcraft "Baron" 95-A55. This well maintained light twin is perfect for multi-engine time building cross-country trips. Airframe: TTAF: 4,066 Engines: Continental SMOH: 933/933 Props: Hartzell SPOH: 2530/2530 3 Blade...
...more
.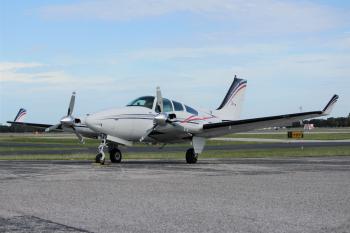 An absolutely beautiful 1968 Beechcraft B55 Baron, located in West Virginia. This aircraft has great bones, it is flown often and has been kept hangered the majority of its life. Onboard oxygen will make for a comfortable ride above the weather with the IO 470 engines producing 260HP each. If you are looking for your next light twin, this is the aircraft for you. Contact us for more information ...
...more
.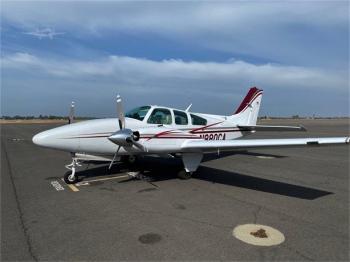 Here is a really nice, low time,hangared Baron E55 that is worthy of an appreciative new owner. Airframe: Total Time: 2,970 Engines: Engine 1: 285 HP Continental IO520 (1700 hr TBO) 1,485 hrs SFRM 338 hrs Since Top with Factory new cylinders Engine 2: 285 HP Continental IO520 (1700 hr TBO) 417 hrs SFRM Props: Time: 1506/1506...
...more
.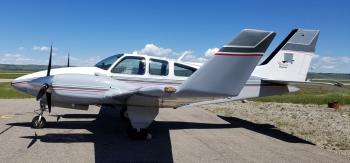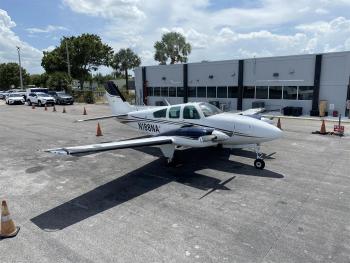 Great E55 Baron with Low time engines. 459/536 SMOH Garmin 530, king Digital IFR, ADSB, Factory Boots, Clean paint and interior Airframe: Total Time: 6595 Engines: 459/536 SMOH Props: 214 SPOH 242 SPOH...
...more
.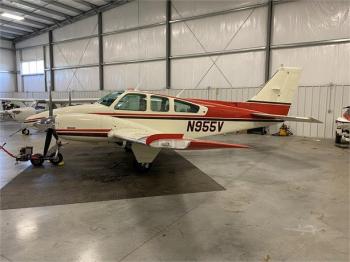 TKS FIKI equipped 76 B55 Baron w 430W, 345 ADSB in and out Transponder, 3000TT w 2005 SFRM. 3 blade props. $129,000.00 Airframe: Only 3000 Hours Total Time TKS Known Ice Equipped No Damage History Hangared Beechcraft Service Center Maintained Engines: TBO is 1500 Hours - these engines are at 2005 hours and running strong. Use 1 quart of oil / 25 hours. 2005 Hours Since Factory Re...
...more
.
Private Beechcraft 95B55 Baron for sale from second owner. Same onwer since 2013 has flown 700 hours. In very good condition, professionally maintained 197 kts True Airspeed at 75% / 180 kts at 65%, 23/23 MP, under 100 liters fuel burn (13-13 USG per engine) Specifications subject to verification by purchaser Airframe: Total Time: 2919 Noise Certificate, 76 dB(A) Landing accident with no...
...more
.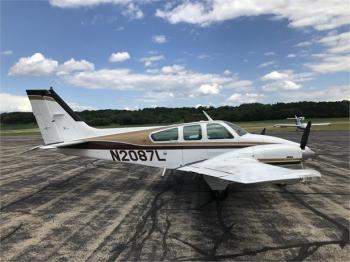 Garmin equipped, deiced 1977 B55 Baron - $179,000. Garmin 750, 345, 275 HSI, ADS-B in and out, 2505TT, 480 & 30 SMOH, 480 & 190 SPOH, GAMI injectors, original P&I, Century IV autopilot, Complete logs and records. Airframe: Total Time Airframe : 2505 Hours Complete Logs and Records Damage History - Accident/Incident Occurred on: 1978-10-14 at 147 hours total time - Narrative - Gear switch r...
...more
.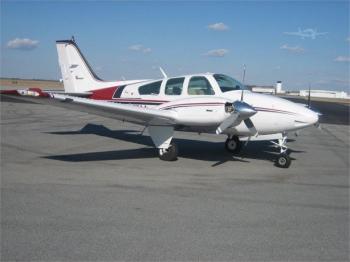 N7755K 1977 Baron B55, Serial No. TC-2067, 2999 Total Time Since New, IO-470 260 Horsepower Engines 1285 Since Major Overhaul, 3 Blade Hartzell Props 150 Since Prop Overhauls, Century IV Autopilot coupled with G5 EFIS PFD & MFD, Garmin GNS-530W GPS/Nav/Com w WAAS and ADS-B Traffic & Weather, Garmin GTX-345 Transponder w ADS-B In and Out, Garmin 225A Digital Nav/Com #2, Bendix Monochrome Weather R...
...more
.