1973 Cessna P337G Reims Rocket
$145,500
73 P337G Reims Rocket. (Only Reims Rocket ever built)
Total time 1400 hrs
Reims built planes are completely zinc chromate coated internally. Absolutely no corrosion.
Both engines are factory remans with just 450 hrs on both.
Props 450 both (front hot)
Complete de-ice plumbing and controls but the wing boots were removed. A set of wing boots and your are full de-iced again. (Arizona plane not much ice in the desert)
Rocket mods include
1. Wing tip winglets
2. Large Rocket boom fairing
3. Super STOL (4 wing fences)
4. Riley turbo Intercoolers
5. Custom metal instrument panel
6. Custom Rocket seats
7. R.T. Aerospace gear door deletion

Interior rating 7.5
Paint rating 5.5
Panel rating 7
Engine compartment rating 9
Air frame rating 7 (due to the 5.5 paint)

Everything works. Autopilot sent in for a complete overhaul by Autopilot Central.

This is one very exceptional very rare aircraft. Reims built Cessnas are the BMW of all Cessnas. The Rocket mods make this a very fast and very cool looking aircraft. They built very few Reims P337's this is the only Rocket modified one out there. The aircraft was built in France to the more stringent European regulations. It was imported into the US in 2000. The Rocket mods were done shortly thereafter by a FBO in Prescott, Arizona. Mods are FAA STC'd from Aviation Enterprises. The aircraft was stored (& pickled) in Yuma for 8 years.
2019 it was put back into Service by Western Skymasters.
1. MX 20 MFD, color GPS moving map w/garmin 150 IFR GPS
2. Duel SL 30 digital Nav/Coms w/dual Glide slips.
3. SL digital matching transponder
4. SL 340 digital matching audio panel
5. JPI 760 duel engine monitor
6. Shadin fuel flow computer
7. 400A autopilot
8. King KI55A electronic HSI
9. Tail boom ADS-B
Fresh March 23 annual inspection
Very good logs & paperwork
No known damage history
Dry country Yuma Arizona based 20 years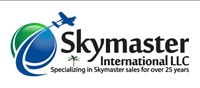 Skymaster International LLC
Spartanburg,SC
Tell the dealer you saw this ad on
AircraftDealer.com