1980 CESSNA TURBO 210N
Reg # N907RY
$169,900
This 2-owner '80 Turbo Centurion spent 27 years on the DEA Aviation Surveillance Maintenance program. KLN-94 IFR GPS, KFC-200 AP w/ FD, GTX-345 ADS-B In & Out, Dual KX-165's, Slaved HSI, Radar Alt, RMI, WX-1000, Stainless Steel Exhaust, Dig Fuel Flow, Elec Standby Vacuum, 135-Amp Alternator, Del-Air Observer Window & more. December 2020 Annual!

Airframe:
7,735 Hours Total Time
2-Owner, Former U.S. DEA Surveillance Aircraft with Impeccable Maintenance for 27 Years!

Engines:
191 Hours SMOH by U.S. DEA's Alliance Aviation Operation Center of Ft. Worth, TX.
FAA CRS # R29R029O (October 2018)
Most Recent Compression Check: #1 / 78, #2 / 78, #3 / 80, #4 / 78, #5 / 76, #6 / 80.
Completed by B-N-B Aircraft Services, LLC. Bessemer, AL

Make: Continental // Model: TSIO-520-R // Serial #: 269994R

Props:
765 hours since Overhaul on 3-Blade Square Tip Prop by South Coast Propeller Services, Inc. of Bessemer, AL FAA RS # S6PR302X

Make: McCauley // Model: D3A34C402 // Serial #: 786867
Dual Pilot & Co-Pilot's King KMA-24H Audio Panels
King KR-22 Remote 3-Light Marker Beacons
King KX-165 TSO Digital Nav-Com #1 w/ VOR, LOC & Glideslope (HSI)
King KX-165 TSO Digital Nav-Com #2 w/ VOR, LOC & 2nd Glideslope (KI-209)
King KLN-94 IFR-Approach-Certified GPS w/ Color Moving Map coupled to HSI
King IFR GPS/NAV Annunciator Switching Panel
Ryan 9900BX Traffic Collision Avoidance Detection (TCAD)
King KCS-55A Slaved HSI
King KRA-10A Radar Altimeter
King RMI
3M WX-1000 Stormscope
King KN-64 Digital DME
King KR-87 Digital ADF w/ Flight Timer
Garmin GTX-345 Bluetooth Transponder w/ ADS-B In and Out (with FIS-B Weather & TIS-B Traffic)
King KFC-200 Autopilot w/ Flight Director, HDG/GPS/Nav Tracking, Pitch Mode, Glideslope Coupling, Go-Around Mode & Altitude Hold
Matterhorn White Base
Forrest Green Metallic and Gold Accent Stripping
Rated: 6+ to 7
Currently set up in a DEA 2-place pilot & co-pilot seat configuration as the rear DEA observer seat has been removed. We can sell as is or with rear passenger seats installed. We can also sell with an FAA-compliant custom new leather interior if desired.
Wing Carry Through Spar Eddy Current Inspection (SEL 57-08) Complied With !!
Atlantic Aero Stainless Steel Exhaust System
Electric Standby Vacuum System
O&N Aircraft Modifications 135-Amp Alternator (STC # SA01437NY)
Arnav FC-10 Digital Fuel Flow Computer
Precise Flight 'Pulselites' (Flashing Landing Light System)
Rosen Articulating Tinted Sunvisors (STC # SA3696NM)
Davtron M811B Digital Chronometer
Electronics International Digital Volt/Amp Meter
'Low Voltage' Warning Light
Alcor EGT Gauge
Pilot's Yoke Mounted 'Control Wheel Steering' (CWS) & 'Autopilot Disconnect' Switches
Pilot & Co-Pilot Shoulder Harnesses
Horizontal Stabilizer Abrasion Boots
Electric Pitch Trim
Rudder Trim
Wingtip Strobe Lights
Fiber-Optic Nav Light Detectors on each wingtip
Instrument Post Lights & Flood Lighting
Davtron Digital Turbo Inlet Temperature Gauge
Avionics Master Switch
Vernier Mixture & Prop Controls
Remote 406Hz ELT
Hobbs Meter
This aircraft has spent 27 years on the DEA's extensive, well-funded, impeccable maintenance program. The maintenance and records on this aircraft far exceed that of what we see on most privately owned aircraft.
Aircraft was seized from the original owner in Tucson, Arizona by the U.S. Gov't in August 1992 and placed in the U.S. DEA Aviation Surveillance Fleet in February 1993. Thus, we have all logs from 1993 to present. The aircraft has been on U.S. DEA funded extensive maintenance program since that time. Meticulous logs & records.
December 2020 Annual. Annual Inspection next due: January 1, 2022.
Modifications / Conversions
Del-Air STC'd Large Left Hand Rear Observer Window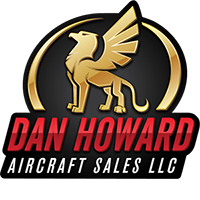 Dan Howard Aircraft Sales LLC
Tulsa,OK
Tell the dealer you saw this ad on
AircraftDealer.com