1981 Cessna P210N
Reg # N281UD
$219,500
This Air-Conditioned and Pressurized '81 Cessna P-210 sports a new dual set of G5's as EFIS Artificial Horizon & HSI, GNS-530W IFR GPS-Com, KX-155 w/ 2nd Glideslope, GDL-69 XM Weather, O&N Aux Fuel Tank, 118 Gallon Fuel Capacity, Dual Backup Artificial Horizons, & Altimeters, JPI-700 w/ Fuel Flow, Shadin Altitude Management, Aero-Safe Elec Standby Vacuum, GTX-330ES XPDR w/ ADS-B Out, working 400B Autopilot, Custom Metal Panel, Monarch Fuel Caps, Rosen Visors, Elec Door Seals, Plus Attractive Paint & Interior. Always hangered, Excellent Maintenance, No Known Damage History, & Clean Solid Frame.

Airframe:
4,019 hours Total Time Since New
Be sure to scroll down to the bottom of this ad where you can download all of the logbooks!

Engines:
1,044 hours since Major Overhaul by Tim's Aircraft Engines, Inc. of Hawaiian Gardens, CA (6/2004) (FAA CRS # T22R537Y)
622 hours Since Top Overhaul w/ NEW ECI Cylinder Kits & NEW Piston Pin Assemblies (5/2011)
Continental TSIO-520-P6B, Serial# 278646-R
Most Recent Compressions Test: #1 / 70, #2 / 67, #3 / 75, #4 / 70, #5 / 75, #6 / 79.
Completed February 2020 by Barry Bredensteiner (2793773 AP/IA) of Aircraft Inspection & Repair. Tulsa, OK.

Props:
329 hours Since Propeller Overhaul by Sensenich Propeller Service, Inc. (12/2005)
(FAA CRS # Q0PR011X)
3-Blade "Hot" Prop
McCauley D3A34C402-C S/N # 900407
King KMA-24 TSO Audio Panel w/ 3-Light Marker Beacons
Garmin GNS-530W IFR-WAAS-Certified GPS-Com w/ VOR, LOC, Glideslope, Terrain Avoidance & Large Color Moving Map (coupled to Garmin G5 EFIS HSI)
Garmin G5 EFIS HSI
Garmin G5 EFIS Artificial Horizon
King KX-155 TSO Digital Nav/Com w/ VOR, LOC, & 2nd Glideslope (KI-209)
Garmin GDL-69 XM Weather Data Link Receiver
3M WX-8 Stormscope
Garmin GTX-330ES Digital Mode-S Transponder w/ Traffic Information and ADS-B Out
Cessna 400B Autopilot w/ Altitude Hold, Pitch Mode, Glideslope Coupling, Reverse Sensing, & Fully Coupled to HSI
Aircraft professionally stripped, prep'd, & then primed with Dupont Vari-Prime primer, then painted with Pratt & Lambert Acry-Glow paints:
Vestal White (WP361)
Dark Blue Metallic (HT-10596)
Sapphire Blue (HT-10642)
Silver (HT 10670
Black (571-010)
Rated - 7+ to 8.
New interior with Douglas Interior products in Air Enterprises (9/1998):
Skandia, Inc. C-3002-25 ALPSA 'Super Soundproofing' materials.
Douglas 'Regal Blue' Leather seat upholstery w/ matching Dark Blue carpeting.
Off-white Sidepanels w/ matching Regal Blue Leather Inserts.
Off-White Trim & Headliner.
Beltmaker's Inc. model # S-1746 seatbelts.
Rated - 7+ to 8.
Factory Air-Conditioning w/ recent $5,000 overhaul!
Custom Metal Instrument Panel w/ Instrument Post Lights & Glareshield Flood Lighting
Garmin G5 EFIS Artificial Horizon and EFIS HSI installed under STC # SA01818WI (New in 2018!)
O & N Aircraft Modifications STC'd 29.4 Gallon Aft Aux Fuel Tank (STC # SA532NE)
118.4-Gallon Fuel Capacity (5 hours plus reserve)
Mid-Continent MD41-828 GPS/NAV Annunciator Relay Panel
Dual Backup Artificial Horizons
Aero-Safe 'Guardian' Electric Standby Vacuum System (STC # SA4626SW)
JPI EDM-700 Digital Engine Analyzer w/ CHT's, EGT's, T.I.T., & Voltage (STC # 2586NM)
JPI EGT-701 Fuel Flow Indicating System (interfaced to the JPI-700 Engine Analyzer) (STC # SA00432SE)
Bose Headsets Interfaces at All Six Seating Stations
Monarch 'Umbrella style' Raised Fuel Caps
Rosen Articulating Tinted Sunvisors
Battery system hardwired for Battery Tender/Charger
Aircraft Innovations FAA-approved AM/FM Stereo/CD Player
Shadin Digital AMS-2000 Altitude Management System
NAT AA83-001 Voice-Activated Passenger Intercom System with Isolation Modes & Music Input Jack
Bob Fields STC'd Inflatable Cabin Door Seals
Wilco, Inc. 'Wing Mounted Convex Mirrors' (main & nose ldg gear position inspection mirrors) (STC # SA2749CE)
Tanis TAS-100 Electric Engine Preheater System
Powder-Coated Engine Baffling
Engine Oil Filter
Polished Prop Spinner
Auxiliary Power Receptacle
Cessna late-model Non-Foam Filled Elevator Trim Tab & Elevator Trailing Edges
Teflon Oil & Fuel Hoses
Wingtip Strobe Lights
Wingtip-mounted Fiber-optic Nav Light 'On' Indicators
Articulating & Vertically Adjusting Pilot & Co-Pilot Seats w/ Headrests, Removable Armrests, & Shoulder Harnesses
Articulating Middle Row Seats w/ Headrests
Rear Bench Seat with Overhead Skylights
Overhead Air-Conditioning Vents
Rear Passenger Reading Lights
Cabin Dome Light
Avionics Master Switch
'Cabin Altitude' Warning Light
'Low Voltage' Warning Light
Horizontal Stabilizer Abrasion Boots
Main Wheel Hubcaps
Kennon Reflective Window Sun Shields
Electric Pitch Trim
Rudder Trim
Pilot & Co-Pilot 'Push-to-Talk' Switches
Pilot's Yoke-mounted 'Transponder Ident' Switch
Pilot's Yoke-mounted 'Elec Trim Disengage' and 'Autopilot Interrupt' Switches
Prop Anti-Ice Amperage Gauge
Astro-Tech LC-2 Quartz Chronometer
Alcor EGT Gauge
Vertical Card Compass
Hobbs Meter
Outside Air Temp Gauge
New Main Gear Tires in May 2017
Kannad 406 AF Compact Emergency Locator Beacon mounted in aft tail area at Station 159.4
New 406Hz ELT Battery in May 2017, next due for replacement in November 2023.
NEW Right side of Engine Exhaust system (P/N 2154000-53) and NEW Forward V-Clamp in April 2016
New Nose Gear Tire, Tube, Bearings & Races in April 2016
NEW Right side Engine Exhaust Collector (P/N 215-4000-55AWL) in April 2013
NEW Pilot Seat Rails and Inboard Co-Pilot Seat Rail in March 2012
New Engine Lord Mounts, Engine Oil Lines, and Engine Tailpipe in May 2011
Landing Gear Hydraulic Power Pack inspected and recertified by Aero Electric, Inc. in Sept 2006
Useful Load = 1,380 lbs.
All Logs Complete Since New.
No Known Damage History.
Delivered with Fresh Annual and 10 hours of Dual Instruction in the Chicago area if purchased at the asking price!
IFR Certification Next Due: Feb 1, 2021
Modifications / Conversions
sO & N Aircraft Modifications STC'd 29.4 Gallon Aft Aux Fuel Tank (STC # SA532NE)
118.4-Gallon Fuel Capacity (5 hours plus reserve)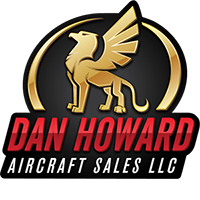 Dan Howard Aircraft Sales LLC
Tulsa,OK
Tell the dealer you saw this ad on
AircraftDealer.com