2008 MOONEY ACCLAIM TYPE S
Reg # N565PA
Inquire
Beautiful Mooney Acclaim Type S, ready for Year End Bonus! Refreshed paint (2023) and October '23 Annual. Speed has never looked so good!

Airframe:
Total Time: 1,310

Engines:
CONTINENTAL TSIO550G
Time: 1310
TBO: 2000
• Garmin GDU 1040, 10" Primary Flight Display, three axis flight dynamics, air speed, altitude, VS, HSI with perspective modes
• Garmin GDU 1040, 10" Multi-Function Display
• Garmin GDC 74A Integrated Digital Air Data Computer, Constant display of TAS, CAS, Wind Direction, VSI and TAT
• GRS77 Solid-State Attitude and Heading Reference System
• Dual Garmin GIA63, Integrated radio modules with IFR approved GPS, VHF navigation with ILS and VHF communication with 16-watt 8.33-kHz transceivers
• GMA 1347 Audio Panel with Marker Beacon and Intercom
• GTX 33 Integrated Mode S Transponder with TIS
• Garmin GEA 71 Airframe/Engine Interface Unit
• Garmin GMU 44 Magnetometer
• Stand-by instrumentation, including ADI, A/S, Altimeter and Magnetic Direction Indicator with Emergency Lighting
• Garmin GDL 69A Satellite Data Link- Weather radar, satellite text, graphic weather data link and audio infotainment
• Attitude Indicator Stand-by Electrical
• Installation of hot-wire plugs for Bose (pilot and copilot)
• GFC700 fully Integrated Autopilot with Flight Director
• Acclaim Option 2 Paint Scheme – Marathon White with Flight Red Trim and Antique Gold Accents
• Alloy (Gray) - Leather Interior
• 102 USG Fuel Tank
• AmSafe Airbag Pilot and Copilot Seats only
• Oxygen System (77.1 Cubic Feet with Four Masks)
• Air Conditioning (25,000 BTU engine driven)
• Xenon Landing and Taxi Lights
• Annual completed: October 2023
-----------------------------------------------------------------------------
Want the safest, most economical and technologically advanced aircraft on the market? Premier Aircraft Sales is the oldest and largest dealer for new Diamond aircraft in the United States covering the southern U.S. ( FL, GA, AL, MS, LA, AR, TX, OK and NM and the entire Caribbean) as well the northeast U.S. (NY, NJ, PA, RI, CT, VT, NH and ME), We also sell pre-owned Diamonds worldwide. Our guiding principle is, "We won't sell you a Diamond aircraft we wouldn't buy ourselves." Along with being the largest Diamond dealer in the US and a factory-authorized service centers in FL, TX and MA, we maintain a constantly refreshing inventory of pre-owned Beechcraft, Cirrus, Cessna, and Piper aircraft. With more than 2,000 sales to date, our reputation is built on excellent customer service, technical expertise, capacity for taking trades, and arranging pilot training, financing, and insurance for our customers. Call us today!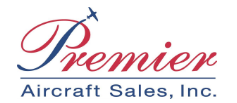 Premier Aircraft Sales, Inc.
Fort Lauderdale,FL
Tell the dealer you saw this ad on
AircraftDealer.com