1997 Vans RV 6A
Reg # N413BB
$84,500
1997 RV 6A with a lot of upgrades. ADS-B in and out, IFly GPS fully functional autopilot with GPS steer, altitude hold, and altitude preselect. The owner has used this Aircraft on numerous flights for cross-country trips.

Aircraft Specifications:
Year: 1997
Manufacture: Vans Aircraft Inc
Model: RV-6A
Price: $84,500
Location (nearest city): Chesterfield, VA (KFCI)
Condition: Used
Serial number: 23432
Registration number: N413BB
Total Time: 1455.8 hours
Flight Rules: VFR
Number of seats: 2
Damage History: No known damage history, checked on aviation Data base.

Engine/Propeller specs:
Engine: Factory new Lycoming, O-320-D1A
Compressions 1) 76/80, 2) 74/80 3) 70/80 4) 74/80
Power: 160 Horsepower
Engine hours: 1455.8 hours Since New
Propeller: Factory New Hartzell CS 2 blade propeller and governor
Propeller hours: 488.8 hours Since New

Airframe:
Complete logs: Airframe & Engine since new
Hangared: Yes
G5 Experimental EFIS
IFly 740 flight navigator GPS
E.I. Inc. digital tach with flight time and engine time
AK 350 blind altitude reporting encoder
Garmin SL40 Comm radio
Garmin GTX 327 Transponder
PS engineering intercom
Electronic Int'l CHT/EGT digital gauge
Trio Pro Pilot Auto pilot, has a GPS steer option as well as provides pitch and roll control. Other options include altitude Pre-select, climb and decent rate select, and altitude hold.
7.5/10: Dark blue base color with light blue on top. Sections of the aircraft have red accents.
7.5/10: Light gray fabric front seats with seat cushion and seat back.
Sky sensor ADS-B in right wing tip data remotes to the IFly 740 GPS showing other aircraft transmitting ADS-B out along with aviation related weather enroute and airport conditions.
Oil pan heater
Electric flaps
Electric trim
AK-450 ELT
Annual: Last Annual Inspection June 2022
Weight and Balance:
Book specs, will provide actual W&B upon request
Max Gross: 1650
Aircraft Empty Weight: 985
The Useful load: 665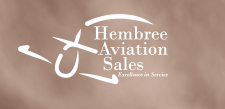 Hembree Aviation Sales
Quinton,VA
Tell the dealer you saw this ad on
AircraftDealer.com