Beech Baron 55 aircraft for sale
---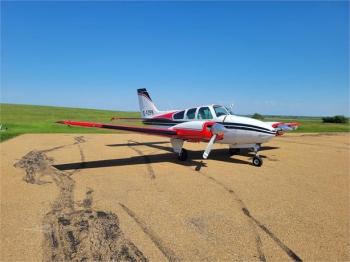 1963 Beech 95-A55 For Sale $120,000 USD Located in Alberta Fresh Annual! TTAF 4433.7 hrs LH Engine TTSOH 579.5 RH ENGINE TTSOH 1606.6 LH AND RH PROPS 235.6 Additional PIctures upon request Aircraft is subject to verification of specifications, logs, times, damage and all equipment listed....
...more
.
Great flying Baron in beautiful condition Airframe: TTAF: 3844 Engines: Time L/R: 950/950 Props: Time L/R: 25/25...
...more
.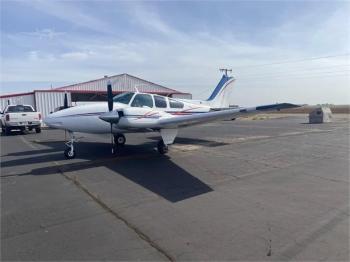 1967 C55 Baron - 3100 digital autopilot, Garmin stack, 20 SMOH and 20 SPOH, good cosmetics, dual yoke, ready to fly. Price Reduced to $240,000....
...more
.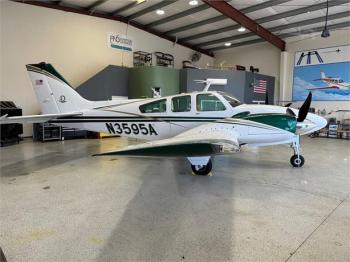 Airframe: Total Time: 3,720 Engines: Engine 1: 285 HP Continental IO-520 847 hours SFRM Engine 2: 285 HP Continental IO-520 1,067 hours SFRM Props: Hartzell Time: 164/164...
...more
.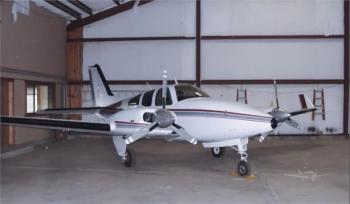 This is an amazing Beryl D'Shannon modification including IO 550 300 hp engines. Long range fuel, Full De-Ice with VG Kit and Winglets. Fresh annual July 2023. Airframe: Total Time: 7,800 Engines: IO 550 300 hp Time: 959 SFRM ...
...more
.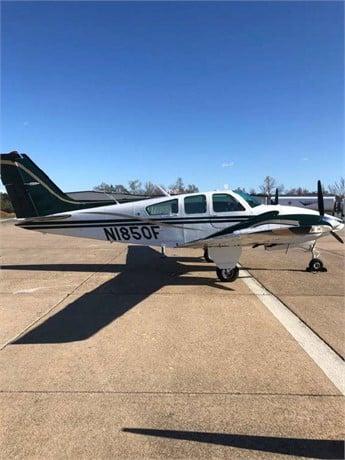 Very clean and well maintained E-55 Beech Baron with no known damage history. GTN-750 GPS/Comm/Nav and GTX-345 ADSB. No boots. Airframe: Total Time: 7,486.3 Empty Weight: 3651 Useful: 1649 Engines: Continental IO-520-CB9B Time: 691/691 TBO: 1900/1900 Props: Hartzell PHC-C3YF-2UF SOH 687.5 1/19/2011...
...more
.
Well maintained Aircraft with good record keeping. Exterior and interior are in great shape, Aircraft shows extremely well. Aircraft always hangared. No known damage history. Several upgrades include: Colemill 300 horsepower STC engine upgrade (200kt cruise), Garmin GNS 530, wing and vertical stab vortex generators, Remote AirWolf oil filter STC and Rosen sun visor STC. Aircraft will be sold with ...
...more
.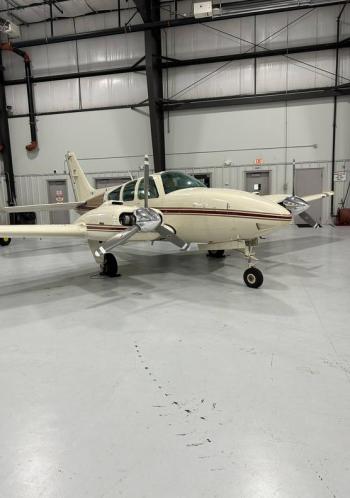 A very nice E 55 Baron Feb annual, many extras, see spec Sheet 5000. Airframe: TTAF: 5000 Engines: Time: 990...
...more
.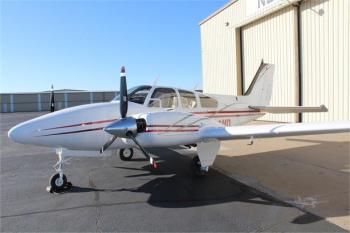 Airframe: Total Time: 3,928.1 Engines: CONTINENTAL IO520C15BR Time: 1224/1194 All cylinders 0/0 STOH Props: MCCAULEY Time: 1376/1376...
...more
.