Piper Navajo / Chieftain / Mojave aircraft for sale
---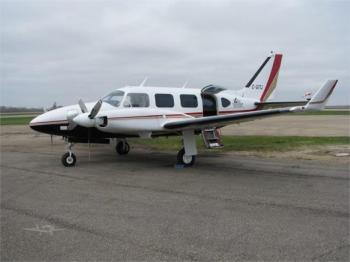 AIRCRAFT IS CURRENTLY OPERATED CORPORATELY. Excellent maintenance history. Aircraft is subject to verification of specifications, logs, times, damage and all equipment listed. Airframe: Total Time: 6,864.9 Engines: TSO L/H engine: 1002.8 TSO R/H engine: 1625.3 TIO540-A2B Narrow Deck Props: TSN both props: 54.6 Aug 16/2018. Scimitar Props Model B3DF526C...
...more
.

Super Low time PANTHER Conversion Only 139/139 Since Factory Overhaul, Outstanding Panel-- Dual GARMIN 530W's, GX200, RADAR, Autopilot, Full De-ice, Air-Conditioning, Four Blade Q tip, Winglets, BDL VG Kit, Truly a Turn Key Aircraft Call Listing Broker Scott MacDonald 772-781-5900 or 772-215-0805 Direct Airframe: 6030 Total Time Since NEW Engine(s): Lycoming 350 HP TSIO 540 Power Plants Remane...
...more
.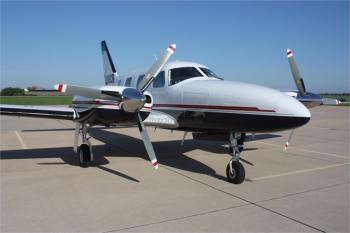 LOW TIME Navajo with Factory Air Conditioning Factory ICE protection, King MFD, King KLN-94 GPS, Dual King KX-155, Clean Cabin Class Twin Airframe: Total Time: 3440 Engines: Time: 788/886 SMOH by Midwest Props: Right Prop 1241 SPOH Left Prop 1241 SPOH...
...more
.

This is a very Nice Pressurized Navajo with Low Total Time and Very Low Engine Times. $75,000 was just Spent Overhauling the Right Engine. Engines: SMOH Left/Right: 220/10 Props: TSOH Left/Right: 424/424...
...more
.

PIPER PANTHER CHIEFTAIN '74. Winglets, VG's, Q-tip props, Intercoolers, increased gross weight. Crew/Cargo doors, lockers, 235 gallons, new paint, clean leather. Fresh O/H on Garmin 430, Sirius WX on MFD MX 20, Stec 65 w/ yaw, FD, AC, tables, potty, wingtip/nose lights. 1100/1100 smoh (1800 TBO), 25/25 s/prop IRAN L/R. New turbos, exhausts, hoses, more. Functional, safe and flying regularly. ...
...more
.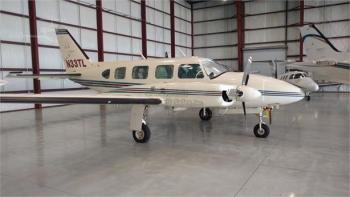 50% Partnership based in Stuart FL, Aircraft is hangared, Crew Services are available, This is a Turn Key Aircraft Airframe: Total Time: 5930 Engines: Time: 1573/115 SMOH ...
...more
.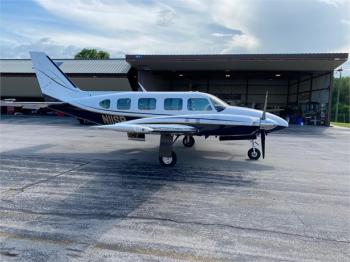 Airframe: Total Time: 6,842 Engines: Time L/R: 116/1668 SMOH Props: Time L/R: 116/2649 SMOH ...
...more
.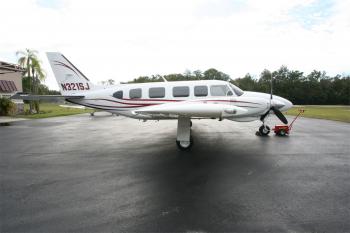 Super Low Time Chieftain !!! Only 3821 TT 78/89 SMOH, Dual Aspen Screen PFD/MFD, Garmin 530, ADSB in and Out, King KFC 200, Crew and Cargo doors, New Paint and Leather 2018, Air Conditioning, Intercooler, VG, Gross Weight Increase, LR Fuel System GREAT VALUE Airframe: 3821 Total Time Since NEW Engine(s): 78 SMOH Left engine 89 SMOH Right Engine Props: 892 SPOH 892 SPOH Both props are Fac...
...more
.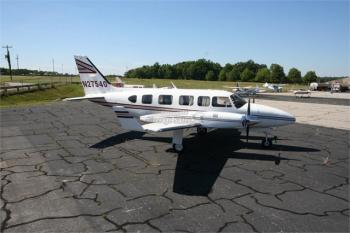 Panther Chieftain with only 778/778 SMOH on both Engines, Garmin GTN-750 Touchscreen, GNS-430W, GTX-345 ADSB (in&out) Color Radar, ASPEN Pro 1000 EFIS Display, Factory AIR and ICE, Super Clean Paint and Leather Interior, Hangared in South Carolina. Airframe: Total Time: 8990 Engines: Engine 1: Left Engine Right Engine Serial Number: L-1869-68A L-6661-61A TSOH: 802 802 Date of Overhau...
...more
.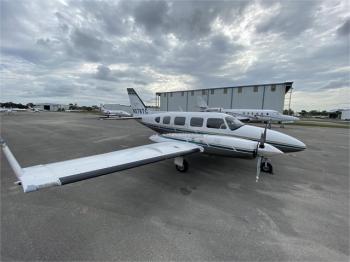 PANTHER CR with only 6591TT ZERO/237 SMOH 0/0 SPOH, Garmin 650 Touchscreen, GTX 345, ADSB in and out, Flight Max 750, STEC 55X Autopilot with Alt Preselect! Sharp Custom Paint and Leather, AC, Factory ICE Protection Airframe: Total Time: 6591 Engines: Time: 237/0 SMOH TBO: 1800/1800 Props: HC-C4YR-2 Four Blade Q Tip Props ZERO ON BOTH 2021...
...more
.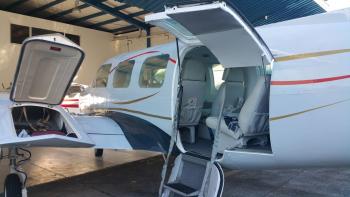 1979 Piper Navajo PA31-325/350 with Panther conversion for sale. New paint on July 2018 and new interior on September 2018. Fresh annual 04/27/2018. Located in La Isabela International Airport (MDJB), Santo Domingo, Dominican Republic. The owner is willing to fly to the US if the buyer is serious. N registered Aircraft. Airframe Details: Make & Model: PA-31-325/350 Panther TTAF: 3201 Engine...
...more
.
Cargo Door. Factory Air Conditioning. BLR Vortex Generators. Airframe: TTAF: 8802 Engines: Lycoming SMOH: 72/1402 Props: Hartzell TSOH: 639/639 Three Bladed Props...
...more
.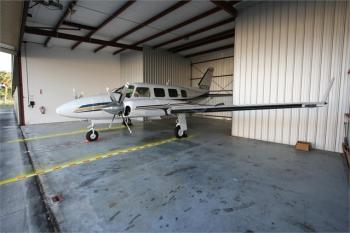 Colemill Panther Conversion (350HP) Gamin GNS-530 GPS/Com/Nav, GTX345 ADSB, Radar, Stormscope, Digital engine Monitor, Fuel Flow, Factory K-ICE, Air Conditioning, NEW Paint and Leather Interior, Wing Lockers, and More Airframe: Total Time: 6785 Engines: Engine 1: 766 SMOH 350 Horsepower per side Lycoming TIO-540-J2BD Colemill Panther Conversion Left Engine OH in 2007 Right Engien O...
...more
.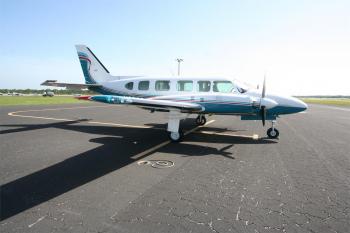 6747 Total Time 20/20 SFOH, 20/20SPOH's, Dual Garmin 600 PFD/MFDs, Dual GTN750 WAAS, Garmin GTX-345 ADSB In and Out, KFC200AP/FD/YD, Stunning Paint and Leather interior, Cargo Door, Digital Eng Monitors, BLR Gross weight VG Kits, Factory Ice, Air, and O2, Totally Refurbished LIKE NEW Condition Airframe: 6747 Total Time Since NEW Engine(s): 20 Hours Since Factory Overhaul RL-1370-68A LTIO-5...
...more
.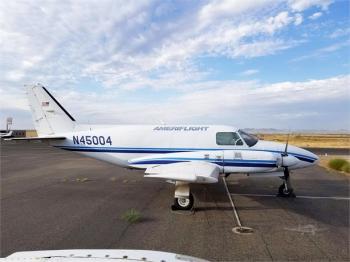 Cargo Configured. FASTProp DeIce. ADS-B. Multiple Aircraft Available. Airframe: Total Time Since New : 20,096.2 Hrs. Total Cycles Since New : 24,754.0 Date of Last Maintenance : 4/23/2019 Engines: Make/Model : LYCOMING TIO-540-J2B TBO : 2,100 Hrs. ENGINE 1 ENGINE 2 Serial Number : RL-5989-61A L-2542-68A Total Time : 6,786.2 6,911.9 Total Cycles : 6,809.0 7,574.0 ...
...more
.