Piper Navajo / Chieftain / Mojave aircraft for sale
---

Super Low time PANTHER Conversion Only 139/139 Since Factory Overhaul, Outstanding Panel-- Dual GARMIN 530W's, GX200, RADAR, Autopilot, Full De-ice, Air-Conditioning, Four Blade Q tip, Winglets, BDL VG Kit, Truly a Turn Key Aircraft Call Listing Broker Scott MacDonald 772-781-5900 or 772-215-0805 Direct Airframe: 6030 Total Time Since NEW Engine(s): Lycoming 350 HP TSIO 540 Power Plants Remane...
...more
.

This is a very Nice Pressurized Navajo with Low Total Time and Very Low Engine Times. $75,000 was just Spent Overhauling the Right Engine. Engines: SMOH Left/Right: 220/10 Props: TSOH Left/Right: 424/424...
...more
.

PIPER PANTHER CHIEFTAIN '74. Winglets, VG's, Q-tip props, Intercoolers, increased gross weight. Crew/Cargo doors, lockers, 235 gallons, new paint, clean leather. Fresh O/H on Garmin 430, Sirius WX on MFD MX 20, Stec 65 w/ yaw, FD, AC, tables, potty, wingtip/nose lights. 1100/1100 smoh (1800 TBO), 25/25 s/prop IRAN L/R. New turbos, exhausts, hoses, more. Functional, safe and flying regularly. ...
...more
.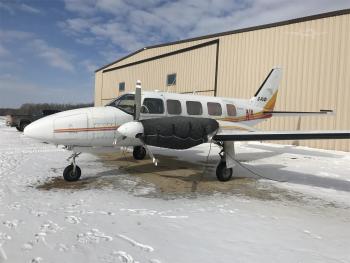 Airframe: Total Time: 10372 Engines: Engine 1 0 / 96 SMOH Props: 570 / 495 SOH Don't miss the chance to own this aircraft. Click
here for more details.
.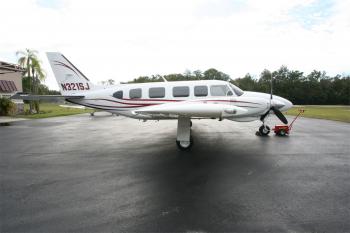 Super Low Time Chieftain !!! Only 3821 TT 78/89 SMOH, Dual Aspen Screen PFD/MFD, Garmin 530, ADSB in and Out, King KFC 200, Crew and Cargo doors, New Paint and Leather 2018, Air Conditioning, Intercooler, VG, Gross Weight Increase, LR Fuel System GREAT VALUE Airframe: 3821 Total Time Since NEW Engine(s): 78 SMOH Left engine 89 SMOH Right Engine Props: 892 SPOH 892 SPOH Both props are Fac...
...more
.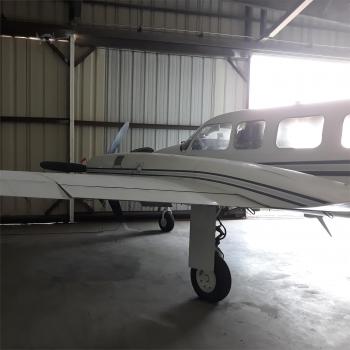 Extended gross weight of 7360 Useful load of 2445 Excellent maintenance. Ready to go!! Airframe: TTAF: 10125 Engines: Lycoming TI0-540-J2BD, LTIO-540-J2BD Left 729.5 Hs. Since Lycoming factory O/H, Right 911.9 Hrs Since Lycoming factory O/H, Props: Hartzell Left prop 40.3 Right Prop 23.1...
...more
.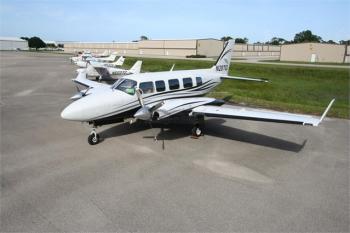 The PANTHER you've been waiting for!!! Garmin G-600 w/SVT, Garmin 530W/430W, Garmin Radar, Garmin ADSB, Garmin Active Traffic, Garmin GDL69A Sat Weather, Stormscope, All interfaced, State of the Art Panel, Simply Stunning Custom Paint, and Leather Interior unlike any PA 31 you will find on the market today. Airframe: Total Time: 7949 Engines: TIO-540-J2DD (350 HP) 1800 TBO 802/802 Since M...
...more
.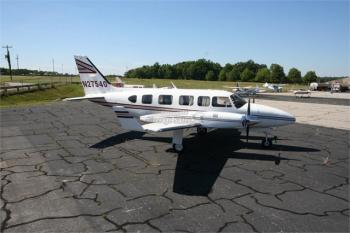 Panther Chieftain with only 778/778 SMOH on both Engines, Garmin GTN-750 Touchscreen, GNS-430W, GTX-345 ADSB (in&out) Color Radar, ASPEN Pro 1000 EFIS Display, Factory AIR and ICE, Super Clean Paint and Leather Interior, Hangared in South Carolina. Airframe: Total Time: 8990 Engines: Engine 1: Left Engine Right Engine Serial Number: L-1869-68A L-6661-61A TSOH: 802 802 Date of Overhau...
...more
.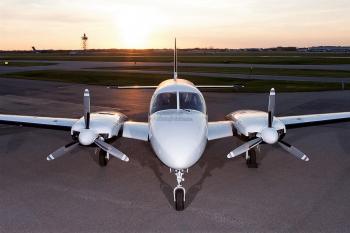 Very Low Time CR Only 4556TT 663/919 SMOH 97/97 SPOH Full Garmin Cockpit, 530W 430W, GTX 330, GMA 340, Radar, HSI, Factory ICE equipment, Stunning ramp Appeal!! Aircraft is on Part 135 in the Florida Keys. Excellent Opportunity Buyer can maintain 135 in South Florida, Keys etc. Airframe: Only 4556 Total Time Engine(s): TIO-540-F2BD Lycoming 919 SMOH SN RL-4189-61 LTIO-540-F2FB Lycomi...
...more
.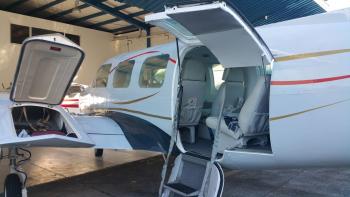 1979 Piper Navajo PA31-325/350 with Panther conversion for sale. New paint on July 2018 and new interior on September 2018. Fresh annual 04/27/2018. Located in La Isabela International Airport (MDJB), Santo Domingo, Dominican Republic. The owner is willing to fly to the US if the buyer is serious. N registered Aircraft. Airframe Details: Make & Model: PA-31-325/350 Panther TTAF: 3201 Engine...
...more
.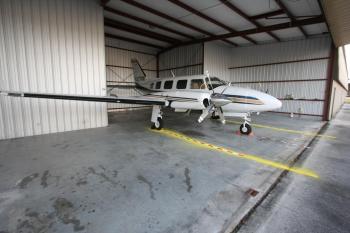 Colemill Panther Conversion (350HP) Gamin GNS-530 GPS/Com/Nav, GTX345 ADSB, Radar, Stormscope, Digital engine Monitor, Fuel Flow, Factory K-ICE, Air Conditioning, NEW Paint and Leather Interior, Wing Lockers, and More Airframe: 6785 Total Time Since NEW Engine(s): 350 Horsepower per side Lycoming TIO-540-J2BD Colemill Panther Conversion Left Engine OH in 2007 Right Engien OH in 2006 Props...
...more
.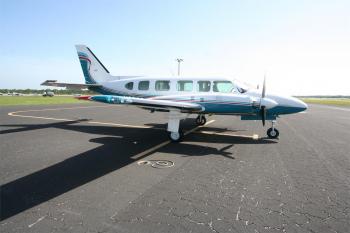 6747 Total Time 20/20 SFOH, 20/20SPOH's, Dual Garmin 600 PFD/MFDs, Dual GTN750 WAAS, Garmin GTX-345 ADSB In and Out, KFC200AP/FD/YD, Stunning Paint and Leather interior, Cargo Door, Digital Eng Monitors, BLR Gross weight VG Kits, Factory Ice, Air, and O2, Totally Refurbished LIKE NEW Condition Airframe: 6747 Total Time Since NEW Engine(s): 20 Hours Since Factory Overhaul RL-1370-68A LTIO-5...
...more
.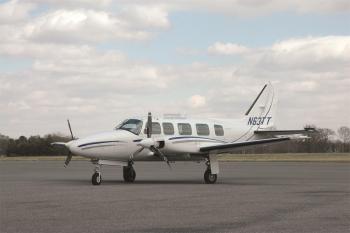 Beautiful Low time 135 Ready Chieftain, Garmin 480WAAS, KFC 200 AP/FD, Great Cosmetics, Crew Dorr, Cargo Door, VG Kit Gross Weight Increase Airframe: Only 8725 Total Time Engine(s): 959 SMOH Left Engine 9-2012 1399 SMOH Righ Engine 4-2011 Props: Prop Specs704 SPOH (9-14) Left Prop 704 SPOH (9-14) Right Prop...
...more
.
Reduced Virus Price Garmin 1981 Panther Chieftain; updated G-600 w/synthetic vision, 2) 650W'S, GMX200MFD, ADS-B transponder, KFC200 autopilot, kice, air, only 6260 hours and 1650 SFRMAN. Nice cosmetics. *SUBJECT TO VERIFICATION & AVAILABILITY UPON INSPECTION* Airframe: Total Time: 6259 Engines: LEFT ENGINE SINCE FACTORY OVERHAUL: (3/06) 1647 HOURS RIGHT ENGINE SINCE FACTORY OVERHAUL: ...
...more
.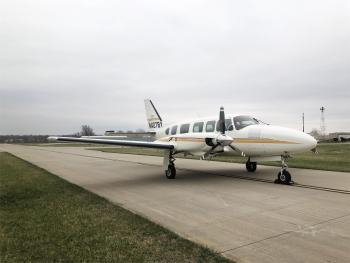 PRICE REDUCED! World's Best Equipped Navajo Chieftain with Amazing Garmin Avionics & Desirable Mods - G600 TXI with Synthetic Vision - Dual Garmin GNS-750's - Garmin GTX-345 ADS-B In/Out Transponder - Factory FIKI De-ice Package (Known Ice) - Factory Air-Conditioning - Factory Oxygen - MTOW increased to 7,400 lbs! This Navajo is ready for every mission imaginable!!! Airframe: Total Time: 6...
...more
.