Beech Baron 55 aircraft for sale
---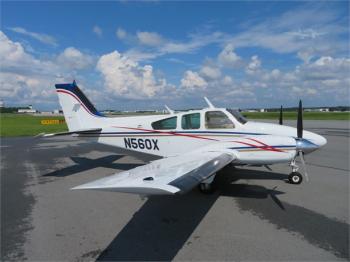 N560X 1965 Baron B55, Serial No. TC-968, 6375 Total Time, Engines 1527 SMOH, 3 Blade Hartzell Props 150 Since Overhaul, De-Ice Boots, Alcohol Props and Windsheild, Garmin G500 EFIS Primary Flight Display and Multi-Function Display w Synthetic Vision, Garmin GTN-750 GPS/Nav/Com w WAAS and Safe Taxi, Garmin GTN-650 GPS/Nav/Com w WAAS, Garmin GL-88 ADS-B In & Out, Garmin GDL-69 XM Weather, Garmin GMA...
...more
.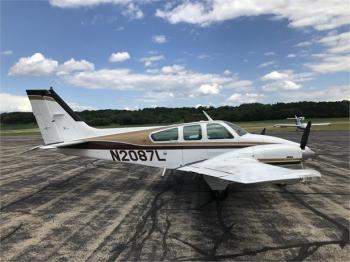 Garmin equipped, deiced 1977 B55 Baron - $179,000. Garmin 750, 345, 275 HSI, ADS-B in and out, 2505TT, 480 & 30 SMOH, 480 & 190 SPOH, GAMI injectors, original P&I, Century IV autopilot, Complete logs and records. Airframe: Total Time Airframe : 2505 Hours Complete Logs and Records Damage History - Accident/Incident Occurred on: 1978-10-14 at 147 hours total time - Narrative - Gear switch r...
...more
.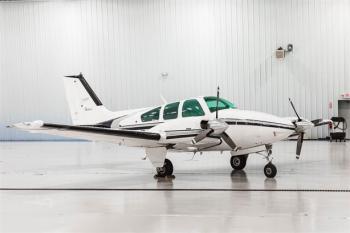 Wow! This one's loaded! Garmin G500 TXi 10.4 in. PFD/MFD, Garmin G500 TXi 7 in. EIS, GTN 650, GTN 750, G5, GMA 35, GDL 88, Flightstream 210, ADS-B in and out, XM weather. N628Q is a 1977 Beechcraft B55 Baron. This light, twin-engine piston aircraft is the perfect family aircraft – fast, economical and efficient. This aircraft is easy to fly, with controls that are positive and responsive. ...
...more
.

Stunning Beechcraft Baron! Same owner for 19 years. Exterior and interior are in great shape. Aircraft always hangared. No known damage history. Several upgrades include: Colemill 300 horsepower STC engine upgrade, wing and vertical stab vortex generators, Remote AirWolf oil filter STC and Rosen sun visor STC. Airframe: Total Time: 5644.50 hours Flight Rules: IFR Number of seats: 5 ...
...more
.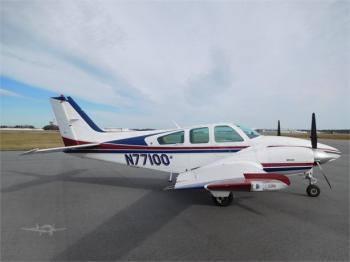 N77100 Serial # TE-1184 CONTINENTAL IO-520-CB 285 HORSPOWER ENGINES NEW GTX-345 w ADS-B Traffic & Weather 1795 Hours Total Time Since New, Engines 250 Since Major Overhaul by GANN, 3 Blade Props, S-Tec 55X Digital Autopilot with Altitude Hold and Glideslope Coupling, Sandel 3800 EFIS HSI, Garmin GNS-430W GPS/Nav/Com w WAAS, New Garmin GTX-345 Transponder w Subscription Free ADS-B Traffic and Weat...
...more
.