Beech Bonanza 36 aircraft for sale
---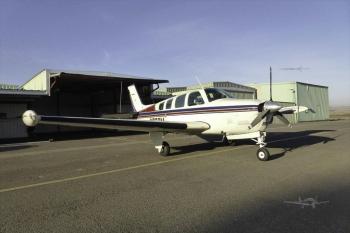 Fly high (25K), fast (218 mph cruise) and far (1200 nm standard range) in comfort. This very sharp meticulously cared for plane has a sumptuous leather interior, double doors for easy loading of passengers and cargo and an extended baggage area. Airframe: Tach 5513.62 Last environmental system check w/ pressurized air 9/2019 New LP aeroplastics windshield, rt & lt forward windows w/ vent doo...
...more
.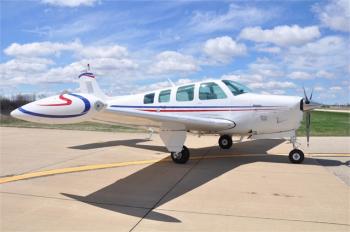 AKC AVIATION is Proud to Present N93AP to Market. N93AP, an A36TC, has Fresh Paint, Tip Tanks, on board Oxygen and a Garmin 430W. Fly as high as 25,000 feet and at 10,000 feet cruise at 175kts true at 17gph with 6 passengers. Airframe: 4450 Total Flight Hours 3600 pounds Max Takeoff Weight / Tip Tanks Empty 3833 pounds Max Takeoff Weight / Fuel in Tip Tanks 1075 Pounds Useful Load Finefield...
...more
.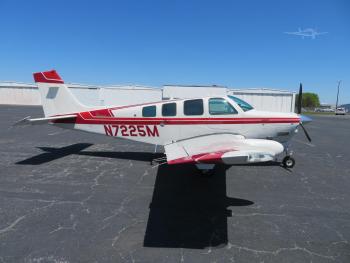 N7225M 1985 Turbo-Normalized A36 Bonanza, Serial No. E-2282, 3590 Total Time Since New, Engine 88 Since Major Overhauled IO-550 300 Horsepower with Tornado Alley Turbo Whirlwind III with Rammer II Conversion, 3 Blade Scimitar Prop 492 Since New, King KFC-200 Autopilot / Flight Director / Slaved HSI, Garmin 530W GPS/Nav/Com w WAAS, Garmin 430W GPS/Nav/Com w WAAS, King KWX-56 Color Radar, Garmin GTX...
...more
. AIRFRAME: TTAF 2519 hours PROPELLER: 3 blade 859 hours ENGINE: SMOH 859 hours ...
...more
.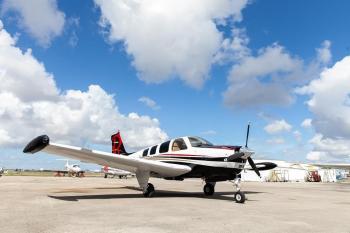 New Paint 2019 New Interior 2019 Air Conditioning Upgraded Avionics Airframe: 20,163 Total Hours No Damage History Complete Logs and Records Engines: Continental IO-550-B, 300 HP, 1700 TBO 1589 Hours Since Overhaul Props: Hartzell 3-Blade Hours Since Overhaul: 175 Hours, 2016 Governor: Freshly Overhauled...
...more
.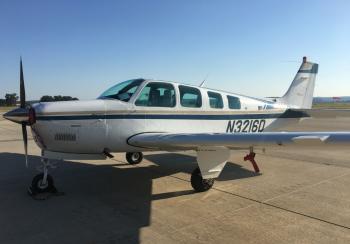 94 Beech A36 Bonanza, 2700TT, 1710 SNEW Engine, 470 STOH, Factory Air, GTN 650W, Garmin Aera 560, NDH, Actively Flying. Cruise 170kts+. Airframe: TTAF: 2700 Engines: Time: 1710 SNEW IO-550-B 300HP D'Shannon Powerflow Exhaust Gami Props: Time: 1710 ...
...more
.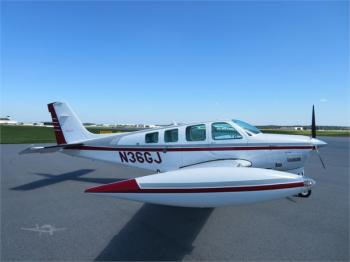 N36GJ 1996 Turbo-Normalized Bonanza A36, Serial No. E-3020, 1645 Total Time, Engine IO-550 300 Horsepower Engine 420 Since Major Overhaul, 3 Blade Hot Prop 408 Since Overhaul, Factory Air Conditioning, De-Ice Boots, Tornado Alley Turbo Whirlwind II Turbo-Normalizing System, D'Shannon 20 Gallon Tip Tanks, 114 Gallons Usable Fuel, King KFC-200 Autopilot Integrated to Garmin G500 EFIS Primay Flight...
...more
.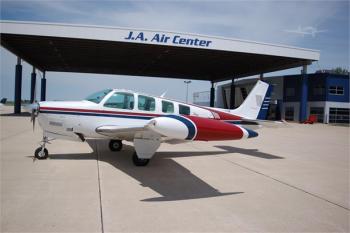 Low time A36 Bonanza with lots of upgrades including TKS, Tip Tanks, Air Conditioning, Turbo Normalized, Garmin and more. Airframe: Total Time: 2,146 Engines: Time: 970 SOH Props: Time: 1525...
...more
.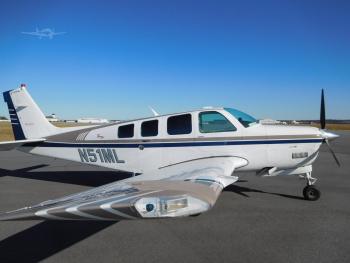 N51ML 1997 A36 Bonanza, Serial No. E-3105; Total Time = 2,540 Since New, Engine IO-550 300 Horsepower, 925 Since Major Overhaul and 55 Since IRAN Tear Down Inspection for Prop Strike, Prop 55 Since New 3 Blade Prop, Factory Air Conditioning, King KFC-150 Autopilot / Flight Director / Slaved HSI with Altitude and Vertical Speed Preselect, Garmin GNS-530 & Garmin GNS-430 GPS/Nav/Com's, Garmin GPS ...
...more
.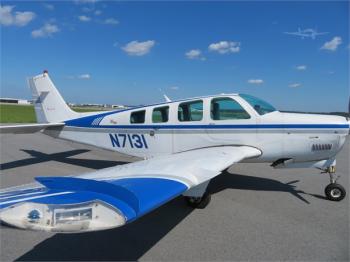 Airframe: Total Time: 2,090 Engines: IO-550 300 Horsepower Engine 1421 SFRM Props: 461 SOH...
...more
.
Well maintained and kept Beechcraft Bonanza, fresh annual & IFR cert, 9/2020. Engine overhauled in December 2015 (546.2 SMOH), no known damage history, recent upgrade to Garmin GPS 175 Touch Screen Navigator WAAS, Coupled to auto pilot and is ADSB out. This low time aircraft is ready Total Time: 3250.90 hours Engine hours: SMOH 546.2 hours Propeller: McCauley, 3A32C406-C/82NDB-4, three blade...
...more
.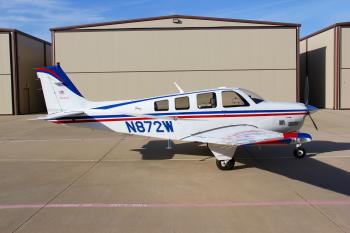 One Of The LAST 15 B36TCs Made! Nobody Ever Lets One Of These Go! You Cant Buy Them Anymore!!! This Late Model B36TC Is Being Offered For Sale Or Possible Trade Of A Barron! Airframe: 905 Total Time Since New Serial Number: EA-681 Engines: 905 Total Time Since New 608 STOH W Superior Cylinders By Western Skyways 300 HP Continental TSIO-520-UB17 Serial # 527518 Date of Manufacture 3/19/0...
...more
.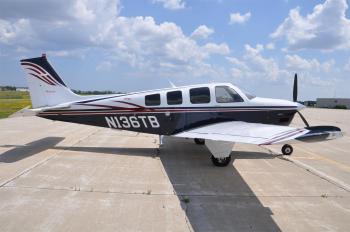 2001 Beech Bonanza Turbo-normalized A36, 1400 TTAF, Air Conditioning, Garmin 530W, 430, King KFC225, w/Alt & VS Preselect & Yaw Damper, CAV TKS System, Air-Conditioning, Garmin 345 ADS-B (In/Out), Increased Gross Weight. Call Kent! Airframe: 1400 Total Time Always US Based and Hangared Engines: 1400 Hours Since New Continental IO550B, 300HP, Special Edition 1044 Hours Since Tornado Alle...
...more
.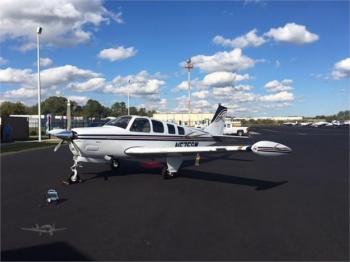 This a very low time Bonanza A36 with a factory re-manufactured engine IO550 300hp, clean logs, well maintained aircraft, best equip avionics on market, paint and interior is in excellent condition. The airframe has 1911 hours total time. The hours will change as aircraft is used weekly. Engine and prop done Jan 2016. Minor gear damage, no prop strike replace with all new Beechcraft parts well doc...
...more
.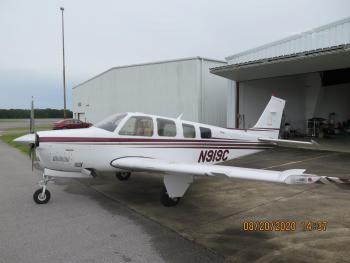 Airframe: Total Time: 1,065 Gross Weight STC 4000 Lbs COMPLETE LOGS NO DAMAGE HISTORY HANGARED SINCE NEW Engines: Continental IO-550 300 Horsepower Turbo-Normalized Engine 348 SMOH by PowerMaster w/ Millennium Cylinders (2013) Great compressions at June 2020 annual! Props: 348 Since Overhaul...
...more
.